Bear Creek Golf Club was designed by noted architect Gary Kern and opened in 1998. With the direction of the owners, Gary Kern designed the unique championship-style golf course to include 46 green and fairway bunkers, beautiful lakes and several large creeks that run throughout the course. This included the preservation of most of the trees and natural habitat allowing each hole to have its own unique features, challenges and beauty.
The course can play more than 7,000 yards and is ranked one of the toughest public golf courses in St. Louis. Tee off from any of the 4 sets of tees and land on over 25 acres of zoysia and bluegrass fairways. Bring your putter to master the large undulating bent grass greens and mark your scorecard lightly. The layout stretches across 150 acres with beautiful homes set back along the course's perimeter. Over the years Bear Creek has become known by most of the avid golfers as "The Home of the Grizzly".
USGA Course Rating and Slope Rating
Tee Name

Gender

USGA Course Rating/
Slope Rating
Front Nine

Back Nine

Black – Grizzlies
Men
73.9/136
36.8/135
37.1/137
Blue
Men
71.7/136
35.5/131
36.2/132
White
Men
68.6/129
34.2/127
34.4/130
Yellow
Men
65.7/118
33.3/123
32.4/113
White
Women
75.2/135
37.8/134
37.4/135
Yellow
Women
70.8/123
36.1/126
34.7/120
Certified by: Curt Rohe, Executive Director, Metropolitan Amateur Golf Association on 3/1/2018.
Explanation: A USGA Course Rating is the evaluation of the playing difficulty of a course for scratch golfers under normal course and weather conditions. It is expressed as strokes taken to one decimal place, and is based on yardage and other obstacles to the extent that they affect the scoring ability of a scratch golfer. A Slope Rating evaluates the relative playing difficulty of a course for players who are not scratch golfers. The lowest Slope Rating is 55 and the highest is 155. A golf course of standard playing difficulty has a Slope Rating of 113. Course ratings are determined, by permission of the USGA, in accordance with the USGA Course Rating System for the purpose of providing a uniform basis of which to issue a Handicap Index. USGA Course Rating, Slope Rating, and Handicap Index are marks owned by the USGA and may only be used in connection with the USGA Handicap System.
Scorecard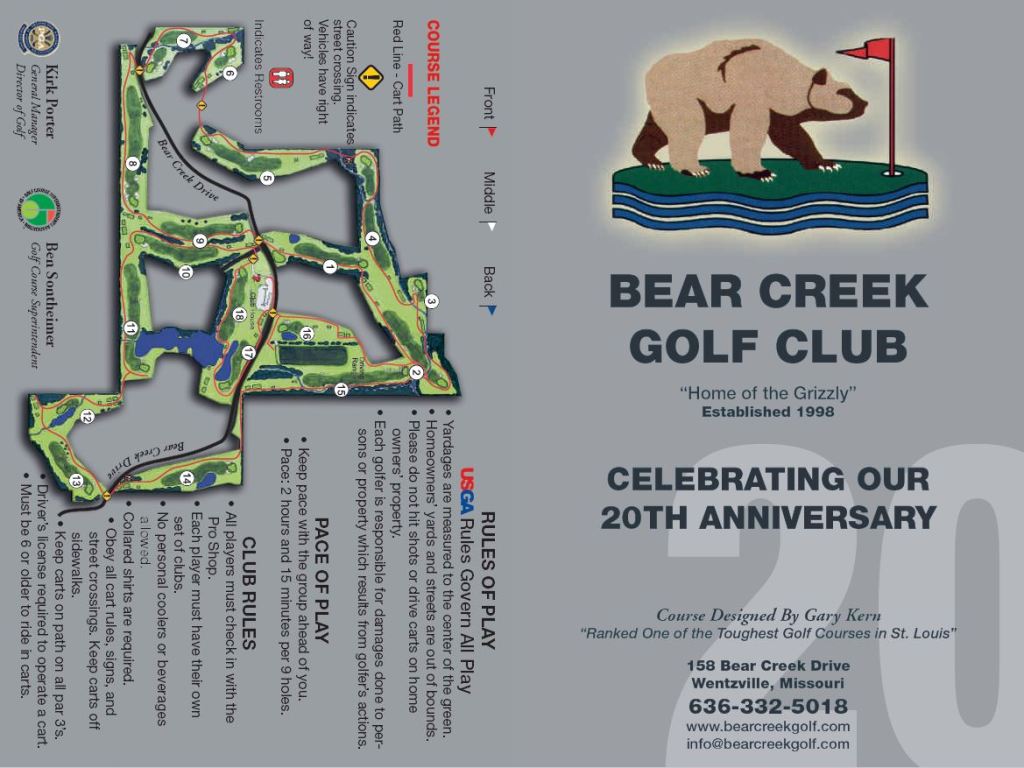 Rules & Policies
All golfers must purchase and use riding cart before 1:00pm. Walking is permitted after 1:00pm.
Golfers may play as a fivesome if permission is given by Pro Shop. All players must keep pace with the group in front of them at all times.
Golfers are responsible for damages to home owners' property. Please exchange information with the homeowner for restitution.
Bear Creek is not responsible for lost, left, or stolen items on the property. Please maintain possession of all belongings.
Please see scorecard below for additional rules and policies.
Sharing the Beauty of Bear Creek Golf Club
Bear Creek Golf Club is a beautiful piece of property and consequently many different "constituencies" seek to enjoy it's beauty. However, the only persons who should ever be on the private property of the golf course are golfers who have checked in and received permission from the Pro Shop, Bear Creek employees, and persons being accompanied by a Bear Creek employee. Others may enjoy the beauty of the golf course "from a distance", from the roads, sidewalks, and properties adjacent to the golf course.
For their own safety, walkers, runners, cyclists, and everyone else must stay off of the golf course and cart paths. The Bear Creek subdivision is blessed with wide roadways and ample sidewalks to accommodate those seeking exercise venues.
Pet owners are not permitted to walk their dogs on Bear Creek Golf Course property and must use proper pet procedures and etiquette when doing so on subvision roads, sidewalks, and common ground. When they use proper etiquette/procedures to clean up after their pets, they may not use golf course or clubhouse trash receptacles to dispose of their pet droppings.
The golf course is an attractive site for picture-taking by wedding parties holding ceremonies or receptions at Bear Creek. For the safety of the wedding parties and the convenience of golfers, photographs for wedding parties will be restricted to holes #17 and #18 and only with the accompaniment of a Bear Creek Management staff member.